I love the Marvel Cinematic Universe.
I didn't at first. Mass-market Hollywood Blockbuster cheese, I thought.
I was more into the hi-brow stuff (Yes Sir…🤨).
But now I'm 43 with 2 kids. Family movie nights are a thing for us at this stage in our lives. Marvel's hit that spot.
The wife loves #DrStrange.
My son is all in on #Spidey.
My daughter is pre-teening, so none of it is cool enough.
Me…I've been enjoying #Thor's escapades.
But there's one moment in the entire MCU that, in my humble opinion, defines the #entrepreneur's journey better than any #influencer or #MBA course ever can.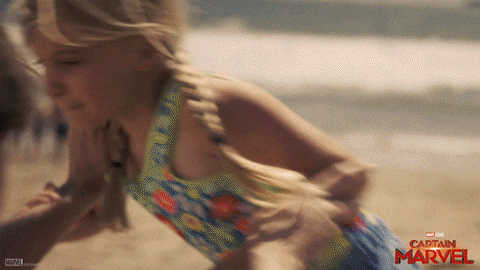 Try. Fail. Rise. Unleash.
It's that scene in #CaptainMarvel. When she realises that she's been blocking herself from unleashing her full potential. Fighting with one hand tied behind her back.
She changes her psychology. Sets her mind free.
And in so doing, she unlocks the full awesomeness of her raw power.
At that point, even #chrishemsworth will probably agree that #CaptainMarvel is the most powerful of all the MCU characters.
#Founders and #Entrepreneurs; you are no different to #CaptainMarvel. Your power is raw and unlimited.
You are where you are, doing what you are doing, because you dared.
Many of the people in your universe, haven't dared to go it alone. To do what you're doing. They don't understand what it's like. Every…single…day.
So block out the social media noise and all the social constraints.
Don't hold back. Don't mute yourself. Don't doubt or deny yourself.
Don't seek to please or to be understood.
Just get #raw! Do it as you see it. Say it as you mean it.
Unleash the truest version of yourself. Your success will follow.
NB: No cheese 🧀 was harmed in the making of this post
---
Ayman Alashkar is a real estate economist and AI strategist, with +20years' experience as real estate asset manager, investor, developer and banker.
Prior to beginning his entrepreneurial journey, Ayman was Head of Real Estate for Emirates NBD's Private Bank, where he was responsible for $2.2 Billion in UHNWI customer Assets Under Advisory. Before this, Ayman was a MENA Director of Real Estate Advisory at Global consultancy Colliers International.
Ayman has transacted and financed over US$1.5 Billion in real estate and FX investments.
---
For informative and light-hearted news and views on the world of real estate, follow overwrite.ai on Instagram and LinkedIn, and keep up-to-date with our weekly NewsBites blog.
---
overwrite.ai | the AI writing assistant for estate agents | Sign up for your Free 7 Day Trial.